The most recommended children's clothing wholesale website TOP5
Sep 27,2022 | eebuy
With the continuous improvement of the economic level, people's purchasing power is getting stronger and stronger, not only the consumption demand of adults has increased, but also the consumption demand of children can not be ignored, and children's clothes are becoming more and more fashionable.
If you have been looking for a wholesale market for children's clothing, you will benefit from reading this article:
eeBuy
eeBuy is a wholesale platform that supplies all kinds of fashion accessories, toys, clothing, pet toys at affordable prices, aiming to create a new B2B supply chain. We specialize in serving small and medium wholesalers and retailers.
Pros:
Hundreds of thousands of SKUs to choose from;
Free shipping on orders over $200;

Strict quality control, each product is subject to quality inspection before delivery;

7/24 online with one-to-one services;

Customized service, (customized packaging, labels, split and shipped to different addresses according to demand);

All products are self-operated;
Sourcing products for you for free and negotiate prices according to your needs;
Cons:
Only credit card payments are supported.
Recommendation Rate: ☀☀☀☀☀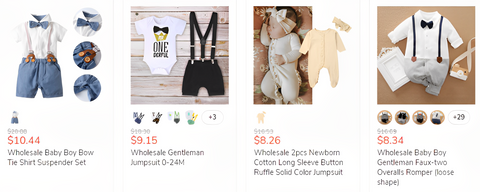 Faire
Faire's mission is to empower independent entrepreneurs to chase their dreams. By simplifying the wholesale buying process and bringing together independent brands and retailers from around the world, we strive to level the playing field for small businesses everywhere.
Pros:
over 70000independent brands, all in one place;
Free returns on opening orders;

Partnering with brands to buy quality products from independent manufacturers and artisans;
Product quality is very good;
Cons:
The starting quantity of the product is relatively high and the price is relatively expensive.
Recommendation Rate: ☀☀☀☀

FashionTIY
FashionTIY is not only an online wholesale market but also a purchasing expert around you.
Emerges as the most trusted wholesale platform for 20,000+ wholesalers and retailers.
Pros:
50,000+ non-repeating apparel style, you can find any style you need;
Saving 40%+ cost for you on average compared with the other online wholesale markets;
Support customized services, just tell them what you design, FashionTIY will meet your requirements;
Provide 30 days of after-sales service;
Any damage caused by non-human factors can be replaced free of charge;
Cons:
New purchase orders need to take approximately 2-3 business days to process.
Recommendation Rate: ☀☀☀☀

Tasha Apparel Wholesale
Tasha Apparel Wholesale has been one of the top fashion apparel wholesalers in Los Angeles, California since 2005.
Pros:
Provide a variety of latest styles, updated daily;
Styles follow the fashion trend;
Free shipping on orders over $ 300;
Cons:
International credit cards are not accepted.
Recommendation Rate: ☀☀☀

Parisian fashion
Parisian fashion not only a global brand but is also your one-stop-shop for staying stylish.
Pros:
Bringing 100+ new products every week at killer prices;
Support global shipping and easy returns;
No minimum order requirement;
Order can be shipped the same day before 14:00;
Cons:
Additional shipping costs are required for orders below £ 400 in the UK.
Recommendation Rate: ☀☀☀
Comment